Life & Health Coaching Sessions with David J. Coon
In this healing session, David will take the time to assess your current life obstacles, health and wellness challenges. The initial focus of the session is to develop a treatment plan and appropriate follow up plans of action.
In these coaching sessions each client will receive:
Personalized Problem Resolution Guidance
Education regarding the Law of Attraction
Mindset and Attitude Training
Proven Techniques to let go of the past.
New Means for Attracting New People, Situations and Life Experiences
Life Coaching Session – $300 for 60-minute session
Personalized Life Coaching Packages are available!
David has two spots available this summer for new life coaching clients!
Life Coaching Packages are available! Please email David directly at: qigongawareness@gmail.com
Life Coaching is available in person and by phone.
Bio:
David J. Coon is an Author, Metaphysical Life Coach, Qigong Master and Martial Arts Black Belt Instructor. He has been involved in healing and martial arts for over thirty years. David travels the country teaching life changing workshops which incorporate Qigong and Medical Qigong Healing, as well as other practices of exercising Higher Consciousness. He recently authored the book: Qigong for Beginners: Your Path to Greater Health and Vitality. This book is much more than a book for beginners. It is the kind of book that not only describes how to do Qigong, but also how to transform yourself and subsequently your life!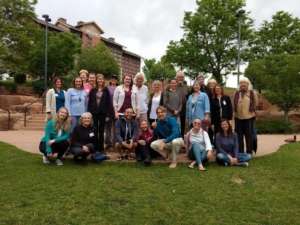 Thanks to David, my story is now a story of healing, health, and prosperity.
I have been training with David for almost a year now. When David moved to Wilmington, I had been practicing Qigong sporadically for a month or so with an instructor who was in David's certification program. Qigong seemed cool, but I had not had any previous experience with energy work and was, admittedly, skeptical. However, I had had breast cancer 3 times and was fed up with the options that Western medicine offered. I was overwhelmed with side effects and took a handful of pills a couple of times a day. When the cancer returned the third time, I was medical retired from the Army and my physical condition had deteriorated from being very physically fit to barely being able to walk a mile.
In the past year, I have trained with David in Qigong classes, Intensives, and private sessions, as well as participating in his healing clinics. Since beginning training, I have been able to stop taking 7 different prescription medications, lost 20 lbs., can run 5 miles, and am a certified Level 1 Qigong Instructor. The difference in my physical, emotional, and spiritual well-being has been phenomenal. David is an amazing healer, instructor, and coach. My story for the past 8 years has been a story of cancer. Thanks to David, my story is now a story of healing, health, and prosperity.
MELISSA L. CULBRETH, MDIV, MA, QI-50 – MAJOR-RETIRED, US ARMY, QIGONG INSTRUCTOR Carolina Beach, NC MARCH 9, 2018