WHAT IS MEDICAL QIGONG?
In China, Medical Qigong is a primary form of medicine and is offered right alongside of Western Medicine. It is the Father of the more modern Acupuncture and it is sometimes referred to as Acupuncture without needles. Medical Qigong is being referred to around the world as a miracle medicine, because so many people have experienced amazing healing results.
Master David J. Coon is an intuitive healer who uses a heightened sense of awareness to interpret energy flowing in, around and through the body. David notices and corrects imbalances in the energy flow related to digestion, respiration, circulation, the immune system and more. By increasing, smoothing out and balancing the energy dynamics in the body, an individual has a significantly increased vitality that allows the body to heal.
Medical Qigong is Very Effective in Offering Healing Support for:
stress
anxiety
depression
headaches
stomach distress
fatigue
chronic fatigue
sports injuries
pre and post sports activity
pre and post surgery
back pain
neck pain
menstrual issues
morning sickness
fertility issues
fibroids
fibromyalgia
hemorrhoids
gynecological issues
mysterious illness
and more…
MEDICAL QIGONG HEALING SESSIONS
IN-PERSON & LONG DISTANCE HEALING SESSIONS WITH MEDICAL QIGONG MASTER, DAVID J. COON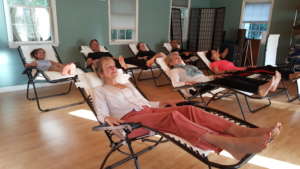 Group Medical Qigong Healing Sessions – $75
In China, Medical Qigong is a form of primary medicine there. It is offered right alongside of western medicine and it is also offered in medicine-less hospitals. During this healing session David works on each person in the group session individually and works on the group collectively. This practice makes for a very powerful healing session. Please RSVP for the healing session before coming.
IN-PERSON SESSION RATES:
Medical Qigong Treatment – 60 min – $300
This healing session is one full hour in length and is a private, one on one session with Master David J. Coon. During this session, David will work with your energy system restoring greater energy flow to any troubled areas of the body-being. He will give you feedback on where your body- energy is stagnating and what you can do to increase the flow of energy to those areas, thereby bringing greater healing. Qigong exercises and other home remedies may be given during these sessions.
Please contact McKay Healing Arts directly at 910-791-1981 to schedule a group or private session.
Sessions are held at:
Location: McKay Healing Arts, 4916 Wrightsville Ave, Wilmington NC 28403
In Person Medical Qigong Treatments in Wilmington N.C.
These sessions support the healing of pain, illness, disease and difficult to heal conditions. Medical Qigong Sessions also provide healing for chronic fatigue, stress, depression, anxiety and trauma.
Long Distance Healing Sessions (Group and Private Sessions) are also available:
Please email us at qigongawareness@gmail.com for more information.
Believe it or not, energy knows no boundaries and Medical Qigong Healing has been proven to be effective at a distance. For more information about distance healing you may also go to: